Face Recognition Terminals
by

TSF-T10 – Facial Recognition in the Time of COVID-19
TSF-T10 is a face recognition terminal equipped with a thermal camera, which can be utilized for access control and time & attendance. It identifies a user face and measures body temperature simultaneously. The measured body temperature can be used to screen users with possible virus infection.
Powered by a state-of-the-art deep learning algorithm, it has industry-leading recognition accuracy. Moreover, by using a high-resolution thermal camera instead of a temperature sensor, it measures the body temperature accurately from long distances.
When it senses an abnormally high temperature after rapidly scanning skin surface, it alarms the supervisor or server system. TSF-T10 along with NetControl-XTM which is an integrated physical access control and T&A solution will provide safe and convenient working environment for various industries, factories, army, and restaurant, etc.

Randall Walsh
Engineer
Cody Harrison
Developer

Face mask verification
Can block users without a face mask
Can recognize users with a face mask on

Body temperature check
Sensing range: 30℃ ~ 45℃
Accuracy: 0.1℃
Error bound: ±0.5℃

Alarm function
Alarms when abnormal body temperature is measured.
Alarms when a user without face mask is checked.

Various multi-modal verification
Face and card, body temperature and card, face and temperature, etc.
TSF-06 – Contactless Access Control and Time & Attendance
TSF-06 is a contactless face recognition terminal which provides users convenience, hygiene, higher security, and economical access control.
It can be utilized in a variety of application areas for access control and T&A: IBS, factories, construction sites, army, etc. Based on a state-of-the-art deep learning algorithm, it provides industry-leading recognition accuracy even in a very low illumination environment. It can even verify or recognize users with face masks. It's face recognition speed and accuracy enable a user to be recognized while he/she is just passing by.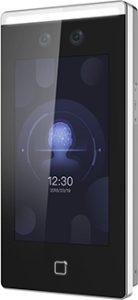 Randall Walsh
Engineer
Cody Harrison
Develop

1:N < 0.2 sec.

IP65, Outdoor Use


Deep Learning Algorithm


Video Recording Function


Prevent backlight interference

7″ touch screen